LIFT-supported Awba Seed programme to take Myanmar's rural development to next level
Yangon, Myanmar, 16 May 2019 – Myanma Awba Group ("Awba") together with Livelihoods and Food Security Fund ("LIFT"), supported by Myanmar Ministry of Agriculture, Livestock and Irrigation ("MoALI"), today launched an innovative public-private partnership which promises a step change in the country's rural development. The programme, led by Awba and supported by LIFT and MoALI, will significantly increase the incomes of 1.3 million farmers through the supply of high-quality seeds to smallholder farmers.
Speaking at the launch event in Yangon, H.E. Dan Chugg, UK Ambassador, said: "The UK is proud to be supporting this transformative partnership between LIFT, Awba, and the Myanmar Government. With extreme weather events such as droughts and floods becoming more commonplace, Myanmar is one of the world's most vulnerable countries to the effects of climate change. Through this partnership, Myanmar's farmers will have access to better seeds, which are both more drought resistant and produce a higher yield."
U Kyaw Swe Lin, Director General of the MoALI Department of Planning, said: "The Ministry of Agriculture, Livestock and Irrigation is happy to see this project increase the productivity and livelihoods of seed producers and our farmers across Myanmar.  This initiative under LIFT's financial inclusion programme also fits with the Government's Agricultural Development Strategy, which stresses the importance of smallholder farmers being at the core of Myanmar's agri-food systems transformation and ensures broad-based and inclusive agricultural growth. Agribusiness is critical in this development. This public-private partnership will ensure that smallholder farmers have access to quality pulse and oilseeds that are both sustainable and resilient to climate change."
Katy Webley, LIFT Fund Director, said: "Through our financial inclusion programme, LIFT aims to increase Myanmar farmers' incomes, their labour productivity, and capability to adapt to climate change, and this partnership with Awba and MoALI ticks all those boxes. With the implementation of this initiative, we expect to see a total increase of USD 500 million in income for 1.3 million farmers across Myanmar over five years."
LIFT's support is crucial to catalyse private sector investment, which would otherwise not happen as the gross margins in open-pollinated seed production are significantly lower in comparison to the margins for hybrid seed production.
Thadoe Hein, CEO of Awba, said: "With this programme, Awba aims to address the quality of the seeds, which is arguably one of the most important constraints facing farmers in the Central Dry Zone who grow pulses, oilseeds and other open-pollinated crops. The economics of open-pollinated seed production are not conducive to private-sector investment and require an outside catalyst, and we would like to thank LIFT for stepping in and coming up with such a creative project. Awba is very happy to be the chosen partner to implement this novel programme and we look forward to working with MoALI and our farmer partners on the implementation."
The high-quality seed production programme will benefit seed producers and farmers, particularly in Myanmar's Central Dry Zone. Currently, farmers in the region grow pulses and oilseeds that are not particularly drought tolerant, making them very vulnerable to climate change.
Awba has established a private seed company which will trade under the name Pahtama Seed Company Limited, to address this challenge. The Pahtama Seed Company is a joint venture between Awba and a farmer entity which will operate based on cooperative principles.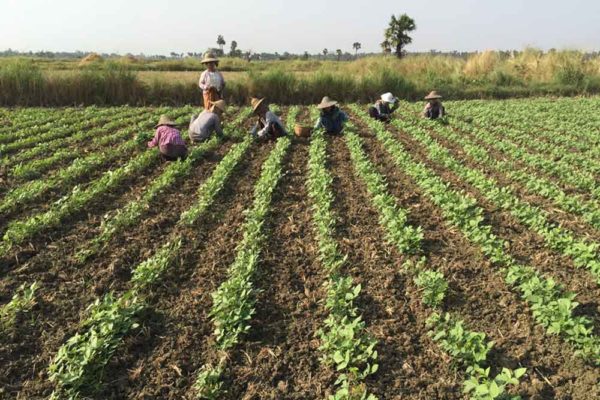 Pahtama Seed Company farmers tend to green gram crops